Welcome to the Public Rights Project Newsletter! Each month, we'll keep you up to date with our efforts to empower states and cities to protect the rights and freedoms that define us as Americans. We'll also share a few articles you may have missed that highlight the importance of state and local government, and how states and cities are picking up the torch to protect our rights.
UPDATES FROM PUBLIC RIGHTS PROJECT
WRAPPING UP OUR FIRST FELLOWSHIP SELECTION PROCESS
We have officially completed our first fellowship application process for our inaugural placements with the Oakland City Attorney's Office and the Office of the Massachusetts Attorney General. We are so impressed and inspired by the level of talent and passion that we saw in our applicants. While we cannot wait to share with you the fellows that we will be working with over the next two years, you will have to wait just a little bit longer. Stay tuned for the official announcement, coming in August! For now, here's some more background on our incredible applicant pool.
We received 65 applications for our 2 fellowship positions!

A major focus of our recruitment and outreach strategy was to seek applicants with a diversity of backgrounds and experiences. Our efforts yielded an inaugural applicant pool that was both talented and diverse. We did not receive more than five applications from any one law school. Our applicants came from a range of employment sectors, split between non-profit, government and corporate. Two-thirds of our applicants were women, and half were people of color:
PRP SUMMER PARTY
July was a month of bonding for the PRP staff. Founder Jill Habig hosted a summer party in her backyard for staff, summer interns, and supporters.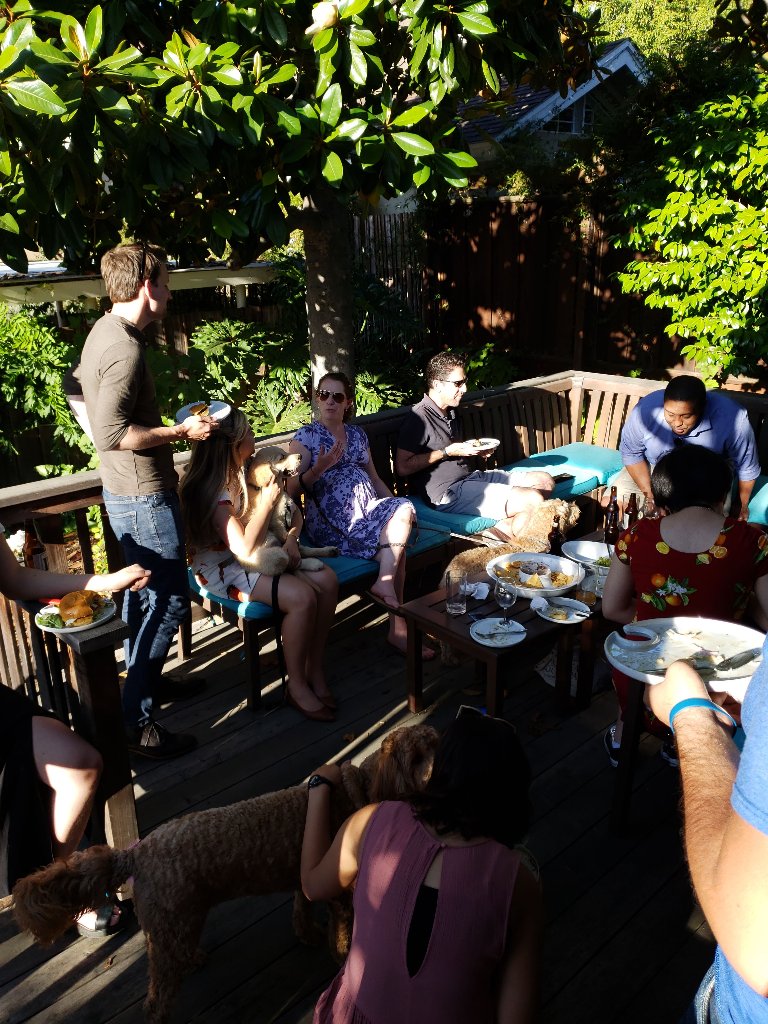 INTERN SEND OFF
Sadly, at the end of July it was time to say goodbye to some of our summer interns. We celebrated our last day together with an afternoon on the banks of Oakland's Lake Merritt at Lake Chalet Seafood Bar & Grill. We are so grateful for the hard work and great attitude that our interns put into PRP this summer. They will be missed!
ASHLEY'S NEXT MOVE
July was also the month that we said goodbye to our Founding Director of Special Projects, Ashley Nakai, who will launch her legal career at Stanford Law School this fall. Ashley has been with PRP since its inception and so many of our accomplishments from the past year would not have existed without her tireless work and heart. We wish her luck and cannot wait to see the exciting things she does next.
BROWN BAG LUNCHES
Our summer programming includes weekly brown bag lunches with guest speakers so that our undergraduate and legal interns can hear varied perspectives on possible public interest career paths. In July, we hosted Adelina Acuña, Deputy Attorney General at the CA Department of Justice (CADOJ); Ben Chida, PPR co-founder and associate at Boies Schiller Flexner; Addisu Demissie, Gavin Newsom's Campaign Manager and David Pearl, voter protection attorney and Obama Treasury Department alum; and Cecilia Chen, former Deputy AG at CADOJ and current Director of Public Policy at Northern California Grantmakers. Thank you for being outstanding PRP partners and volunteering to share your wisdom and experience with our team!
STATES AND CITIES SUE OIL AND GAS COMPANIES FOR CLIMATE REPARATIONS
The City of Baltimore announced lawsuits against 26 oil and gas companies for damages that fossil fuels have inflicted on the city. Baltimore joins, among others, New York, San Francisco, and Oakland in climate suits of this nature. An advocate sums up this new litigation, saying "The impacts of climate change and the need to protect their citizens is something that small cities and big cities alike can take part in."
Read more via City Lab.
ATTORNEYS GENERAL LEAD THE FIGHT AGAINST 3D PRINTED GUNS
Eight Attorneys General have filed a suit against the Trump Administration to stop a Texas based-company from publishing instructions to 3D print guns online. Washington State Attorney General Bob Ferguson is leading the charge, stating his steadfast objections to downloadable weapons, declaring: "I have a question for the Trump Administration: Why are you allowing dangerous criminals easy access to weapons?"
Read more via NPR.
BETSY DEVOS STRIPS DEPARTMENT OF EDUCATION'S ABILITY TO ENFORCE CIVIL RIGHTS
Under Betsy DeVos, the Department of Education's capacity to investigate discrimination through the Office of Civil Rights has been massively reduced. Catherine Lhamon, leader of the Office of Civil Rights for the Obama administration describes this rollback, saying: "If you don't look [for discrimination], you won't find it … Their goal is to have fewer people do less work, be less involved — which will mean, as a practical matter, less justice." This means that state and local actors are needed more than ever to fight for the civil rights of students.
Read more via The Washington Post.
MASSACHUSETTS ATTORNEY GENERAL MAURA HEALEY TAKES AIM AT THE TRUMP ADMINISTRATION
Read a round up of action that AG Healey has taken to fight the Trump administration over the past six months. From battling EPA rollbacks to denouncing the travel ban to advocating for high-quality and affordable health care, Healey is heading some of the most important suits of the year.
Read more via Boston Globe.